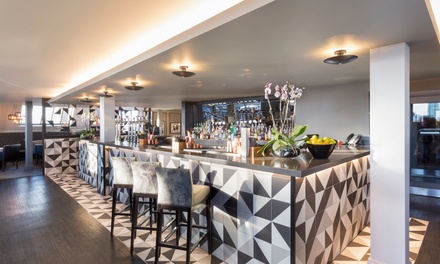 Guests can sip Prosecco and savour a two-course lunch or dinner meal which may include mains like Tuna Steak Panzanella or 35-day aged steak
Price: £28.00
Value: £66.80
Discount: 58%
You save: £38.80
Description
Check Availability Make a Booking
Choose from Eight Options
£28 for a two-course lunch with a glass of Prosecco each for two (up to 58% off)
£56 for a two-course lunch with a glass of Prosecco each for four (up to 58% off)
£38 for a two-course lunch with a bottle of Prosecco for two (up to 59% off)
£76 for a two-course lunch with two bottles of Prosecco for four (up to 59% off)
£49 for a two-course dinner with a glass of wine each for two (up to 43% off)
£98 for a two-course dinner with a glass of wine each for four (up to 43% off)
£59 for a two-course dinner with a bottle of wine for two (up to 41% off)
£118 for a two-course dinner with two bottles of wine for four (up to 41% off)
A discretionary 10% service will be added to the bill.
Lunch includes: Crispy calamari with fresh chilli and spring onion | Marco's pork belly, butter beans, honey spice and meat roasting juice
smoked salmon with brown bread and butter | The Governor's fried haddock and triple-cooked chips with mushy peas and tartare sauce
Dinner includes: Wheeler's crispy calamari with tartare sauce and fresh lemon | grilled 35-day aged sirloin steak with roasted vine tomatoes, English watercress and a choice of triple-cooked chips, pommes frites or green salad with truffle dressing
Diners can also enjoy a glass of wine or Prosecco each depending on the option
Wines available include: White Zinfandel, Lavender Hill, California, USA | Pinot Grigio, Antonio Rubini, Delle Venezie, Italy | Pinot Noir, Élevé, France
Marco Pierre White Steakhouse Bar & Grill Cardiff
Queen Street

Terms and Conditions
Validity: Expires 30 Sep 2019.
Purchase: Limit 1 per 2 or 4 people, may buy 10 additional as a gift.
Booking: Mandatory booking required at least 48 hours in advance. Check availability here and book here; provide Groupon code. Present Groupon on arrival.
Restrictions: 24-hour cancellation policy. Must be 18 or older with a valid ID for alcohol. **A discretionary 10% service will be added to the bill.** Valid on set menu only. Not available in conjunction with any other offer or voucher. Menu may be subject to change. All weights are uncooked. All prices include VAT at the current rate. Before ordering any food or drink please speak to the staff to receive information on any ingredients. Not available Saturdays. Excluded dates: 9-11 and 15-19 July. Valid for option purchased only.